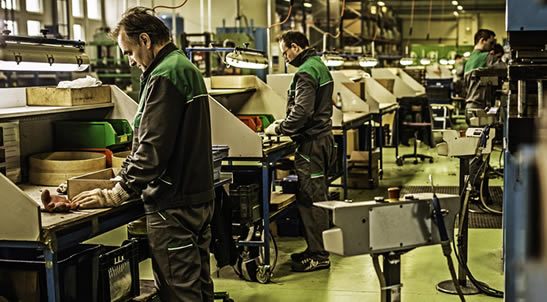 Upper limb disorders – How to manage & prevent in the workplace – A quick managers guide
by Stephen Bowden, Chartered Ergonomist for Morgan Maxwell
Definition of Upper Limb Disorders
The Health and Safety Executive (HSE) define upper limb disorders as 'aches and pains in the shoulders, arms, wrists, hands and fingers, as well as in the neck'.
The NHS define ULDs as 'upper limb disorders' covers a large number of musculoskeletal conditions that affect the shoulder, elbow, forearm, wrist or hand.
Background to the problem
Work related upper limb disorders (WRULDs) are a common cause of working days lost within the United Kingdom.
In 2018/19 the HSEs report into WRULD statistics showed that 498,000 workers suffered from work related musculoskeletal disorders (new and long standing) with 41% of the MSDs affecting the upper limbs or neck. In the same period, 6.9 million working days were lost due to work-related musculoskeletal disorders.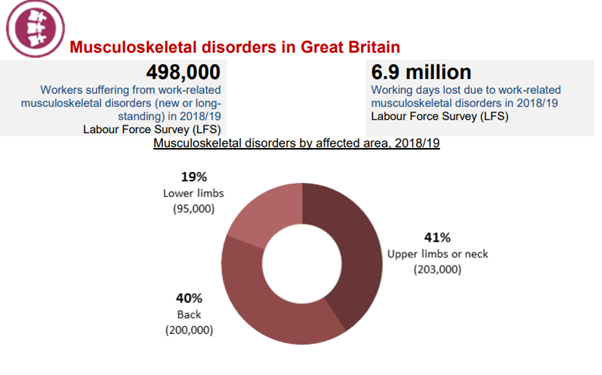 Image 1; HSE statistics around musculoskeletal disorders in Great Britain https://www.hse.gov.uk/statistics/causdis/msd.pdf
Presenteeism at work
Presenteeism which is best defined as 'reduced productivity at work due to health problems or other events that distract one from full productivity' (Hummer, Sherman, & Quinn, 2002; Whitehouse, 2005) should also be considered when thinking about the business case to manage work related upper limb disorders.
Loss of productivity due to presenteeism, can seriously affect the competitive advantage of the business if not considered during an ergonomics investigation. Understanding absenteeism data around the number of days lost is key but consideration for the number of hours lost due to distractions from work related upper limb disorders should also be a focus.
Common work-related Upper limb tasks/jobs.
Any task that involves the upper limb (tips of the fingers to shoulder and extending to the neck)
Assembly line workers, construction workers, food picking, machinists and hairdressers are all examples of job that are more at risk.
Causes of work-related upper limb disorders
Static awkward postures
Repetitive work carried out for prolonged periods using the same upper limb movement.
Loading/force exerted during the task.
Breaks positioned to far apart or for to short a period.
Using handheld power tools for extended periods.
Other ergonomics/human factors issue may also increase the risk such as:
Poorly designed lighting or thermal environment
Poor work system design that does not provide for individual differences in workers abilities.
Legal requirements to protect your workers.
Employers duties
No specific regulations around WRULDs exist but the risks fall under the Health and Safety at Work act 1974 and the Management of Health and Safety at Work Regulations 1999 to manage and control the risk associated with WRULDs.
The Health and Safety at Work act 1974 states a general duty on employers to "ensure as far as is reasonably practicable, the health, safety and welfare at work of all his or her employees".
If employees are using computers, employers are responsible to ensure compliance with the Display Screen Equipment Regulations 1992
The Health and Safety (Display Screen Equipment) Regulations 1992 as amended by the Health and Safety (Miscellaneous Amendments) Regulations 2002 L26 Guidance on Regulations can be downloaded here.
Employers are also responsible for the reporting of Injuries, diseases and dangerous occurrences under the RIDDOR regulations 2013
Employee duties
Employees have a responsibility or 'duty of care' under the The Health and Safety at Work act 1974 to take care of their own health and safety and that of others who work with them that may be affected by their actions.
Management and prevention of Upper limb disorders in the workplace
From experience, managers quiet often produce risk assessments with good intention to reduce the risk of work-related upper limb disorders. Issues arise when these risks assessments do not provide adequate ergonomics/human factors detail and therefore miss some of the main risk factors that may cause or exacerbate upper limb disorders.
As employers are required to manage the risks as far as is reasonably practicable under the The Health and Safety at Work act 1974 when considering work related upper limb disorders the following process should be considered:
Stage 1 – Apply an ergonomics approach
Ergonomics is the study of how people interact with their surroundings, their products and tools, the building they work and live in, the information they receive, and the organisation of these activities.
Information obtained is used to improve every level of this interaction, to enhance people's comfort, satisfaction and safety and the usability and effectiveness of their tools and products.
When looking at individual operations the assessment should consider the task, the load, the working environment and individual capability as well as other factors and the relationship between them.
The International Ergonomics Association defines Ergonomics as:
Ergonomics (or human factors) is the scientific discipline concerned with the understanding of interactions among humans and other elements of a system, and the profession that applies theory, principles, data and methods to design in order to optimise human well-being and overall system performance.
To help reduce the risk of injuries in your workplace:
comply with the regulations and guidance.
review risk assessments when necessary.
encourage early reporting of symptoms.
ensure any cases of injury are managed effectively.
consult and involve the workforce and their representatives. They know the risks and can offer solutions to control them.
Psychosocial risk factors also need to be considered. These are things that may affect workers' psychological response to their work and workplace conditions. Examples are high workloads, tight deadlines and lack of control of the work and working methods.
Consult employees on
risks arising from their work
proposals to manage and/or control these risks
the best ways of providing information and training
Employees can contribute by letting you know about any specific difficulties caused by, eg:
the size, shape or weight of loads
how often loads are handled;
the order in which the tasks are carried out;
the environment in which the handling operations are carried out, e.g:
any space constraints which make it difficult to maneuver the load;
unsuitable shelving/storage systems;
uneven flooring.
Vulnerable workers
Who are or have recently been pregnant
Have a disability which may affect their capability
Have recently had an injury or have a history of upper limb disorders which could affect their capability
Young workers or new to the job
Older workers
Ergonomics, otherwise known as Human Factors is concerned with designing systems and working environments to best meet the requirements of people using them based on the physiological, anthropometric and material attributes of the individuals.
The focus of this ergonomic investigation is upon the staff who are represented in the centre of the system. Factors that impact on the staff's ability to perform their tasks in a healthy, safe and productive manner include:
The tasks undertaken, including their content and variety
Equipment and physical environment
Skills and knowledge
Systems of work
Social interaction and group dynamics
Social environment external to work.
A variety of methods are used to measure both the abilities of the person and demands of the work to determine the match or mismatch between the two. Many of the issues considered in an ergonomics analysis have direct implications for performance, quality and indirect impact on the attitudes people have about various aspects of their work.
The definitions of ergonomics and quality have a substantial overlap. Quality consequences such as deficiencies have shown to be strongly related to ergonomic consequences such as human errors, discomfort and health impairments. People in general have a desire to perform good quality work, whereby quality becomes an important source of satisfaction and wellbeing (Eklund, 1997; Deming 1986).
Overloading the musculoskeletal system leads to physical systems such as neck, shoulder and back pain. Overloading the mental system contributes to both physical and non-physical symptoms such as neck tension, stress or low motivation.
Stage 2 – Risk Filters
Risk filters are designed to establish if you need to complete a more detailed ergonomics risk assessment.
As a business it is not possible (or needed) to complete a detailed ergonomic risk assessment on every task. Using a risk filter (image 2) can help you save time and resources which are required to focus in on the areas that may need an intervention.
The Health and Safety Executive provide a range of risk filters to help you manage work related MSDs but also provide a specific upper limb focused risk filter. Please note that the risk filters are not precise exposure limits bur are designed to help your business identify the risks and possible ways to reduce them.
If the task in question falls outside of the risk filter you should consider the completion of a more detailed ergonomics upper limb task assessment.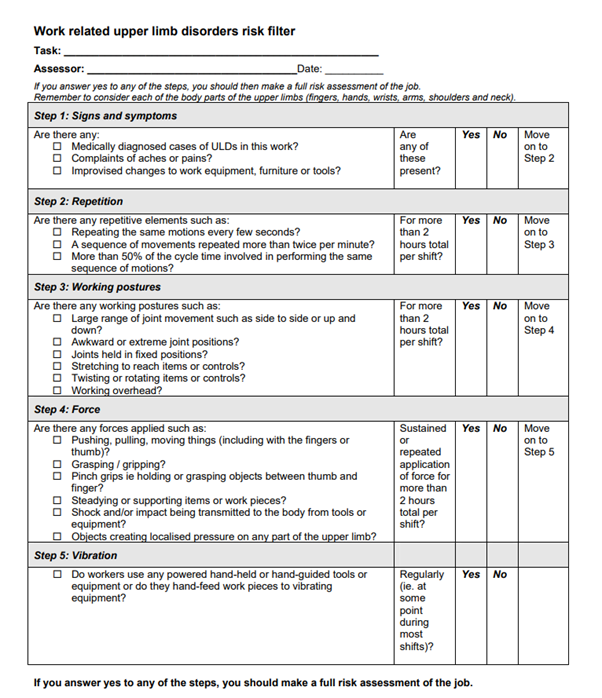 Image 2: HSE Upper limb risk filter
Stage 3 – Detailed upper limb assessment
Now you have identified tasks that require a more detailed assessment using the upper limb risk filter you should consider the following process:
Step 1 – Contextual enquiry/walkthrough
A key part of the ergonomics approach is to understand the context of use. The context of use is fundamental to the success of your recommendations.
A contextual enquiry is an alternative method to surveys and focus groups. A contextual enquiry is to examine what people do, rather than what they say they do. Using the correct techniques within the contextual enquiry allows you to understand a person's real-time interactions, their "context of use" and their shifting needs over the course of a day.
Some key questions to consider during a contextual enquiry are:
The goals users are trying to achieve.
How users currently do it.
The parts they love or hate.
The difficulties they experience along the way.
The workarounds they use.
You should observe and interview a range of users to ensure you have a detailed understanding of what is going on.
Best practise is to observe employees completing their normal day to day jobs while asking them questions around the tasks.
Step 2 – Ergonomics (upper limb) risk assessment tools
If the upper limb risk assessment filter has highlighted areas of high risk, you should consider completing a more detailed assessment.
There are a range of ergonomic risk assessment tools that cover upper limb disorders. Within the UK there are two main tools you should consider in the management of work-related upper limb disorders.
–Assessment of Repetitive Tasks (ART)
The ART tool is designed to reduce the risk of injury associated with repetitive movement of the upper limbs (arms and hands). It can be used proactively during the design of tasks and reactively to reduce the risk during upper limb focussed tasks.
The ART tool covers:
Frequency and repetition
Force
Awkward postures
Additional factors such as breaks & work pace.
Duration of the task
Psychological factors
The above factors when reviewed against the task in question provide you with an exposure score. The ART tool provides a system for interpreting the exposure score:

Image 3: ART tool exposure score
-Rapid Upper limb Assessment (RULA)
The Rapid Upper Limb Assessment (RULA) (McAtamney and Corlett, 1993) is an ergonomics-based workplace risk assessment tool that allows you to calculate the risk of musculoskeletal loading within the upper limbs and neck. RULA is easy and quick to use and does require expensive equipment to complete.
RULA is designed to be a rapid tool.
The published tool is validated and has been tested by McAtamney and Corlett and many others as reliable.
The final score is a relative score of risk not an absolute score of risk.
RULA is intended to be part of a broader ergonomics survey.
RULA is a screening tool that assesses biomechanical and postural loading on the whole body with particular attention to the neck, trunk and upper limbs.
A RULA assessment requires little time to complete and the scores generated fit into an action list which indicates the level of intervention required.
RULA's useful scoring system allows you to take a snapshot of the highest risk posture adopted during the task. The scoring system is broken down into four actions levels with indications in as to the urgency of the investigation.
Action level 1. Score of 1-2 = Acceptable
Action level 2. Score of 3-4 = Investigate further
Action level 3. Score of 5-6 = Investigate further and change soon
Action level 4. Score of 7 = Investigate further and change immediately
Which tool to use?
ART and RULA are useful tools to use side by side as they both can highlight areas of concern.
ART is useful in highly repetitive tasks such as food packaging on a manufacturing line. ART covers areas such as duration and frequency and repetition in more detail than RULA.
RULA is useful where the tasks are not as repetitive, but the users still adopt high risk postures.
In a complex task assessment you will find with experience that both upper limb focussed tools are useful to have in your toolbox.
Summary
The above process can be used as a proactive or reactive approach to manage and prevent work related upper limb disorders.
When completing an upper limb focussed assessment always try to ensure you have a detailed understanding of the tasks from a wide range of users before moving onto recommendations.
Recommendations will not always mean large investment in a redesign of the process. If you have spent time with your employees and asked the correct questions you should understand the workarounds they currently do, and methods used to reduce risk of injury while maintaining output.
Using the expert knowledge from the employees can significantly reduce the cost of any process redesign.
Need help with your work related upper limb disorder assessments and ergonomics improvement process? Contact Morgan Maxwell today to speak with a Chartered Ergonomist. We can support you with industrial ergonomics assessments & surveys and ergonomics training in the use of a range of ergonomics tools.
If you're unsure whether you need a Chartered Ergonomist's expertise, see our blog post first: What is a Chartered Ergonomist?, and drop us a line with any questions.